The symphony of morning, when the world slowly stirs awake, is often accompanied by the melodies of breakfast, that quintessential meal which breaks the fast of the night. It sets the tone for the day, offering both energy and enthusiasm. Within this rich tapestry of breakfast options, have you ever considered the captivating culinary contributions of the letter 'A'? A veritable treasure trove of appetizing options awaits to allure and awaken your taste buds.
This article is dedicated to diving deep into dishes that debut with the delightful letter 'A', presenting a range of foods from the commonly adored to the pleasantly arcane. Whether you're an aficionado of morning meals or simply seeking some alphabet-inspired inspiration, join us as we embark on an early-day edible exploration, all anchored around the appetizing and amazing letter "A".
Breakfast Foods That Start With The Letter A
Ah, breakfast! Often labeled the most important meal of the day, it gives us the energy and nourishment needed to kickstart our morning and keep us active throughout the day. From different cultures to individual preferences, the range of breakfast foods is vast. In this article, we'll dive deep into breakfast dishes and ingredients that begin with the letter 'A', offering a comprehensive look into their origins, preparation methods, and more.
1. Avocado Toast
Origin: While avocados have been consumed for thousands of years, particularly in Central and South America, the concept of avocado toast gained major popularity in the early 21st century, particularly in the US and Australia.
Preparation: Creamy avocado is mashed and spread on toasted bread, often seasoned with salt, pepper, and other toppings like radish slices, chili flakes, and feta cheese.
Benefits: Rich in healthy fats and fiber, avocados provide a nutritious start to the day, offering satiety and various vitamins and minerals.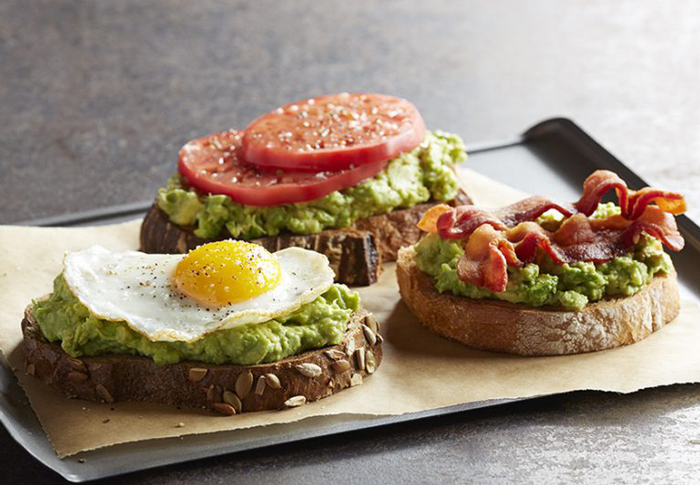 2. Açai Bowl
Origin: This breakfast bowl finds its roots in Brazil. Açai is a berry from the Amazon rainforest and has been a staple in local diets for ages.
Preparation: Açai berries are blended with a mix of frozen fruits and a splash of liquid (like almond milk or coconut water) to create a thick, smoothie-like base. This is topped with granola, fresh fruits, nuts, seeds, and sometimes sweeteners like honey or agave.
Benefits: Packed with antioxidants, açai bowls can help combat oxidative stress and inflammation.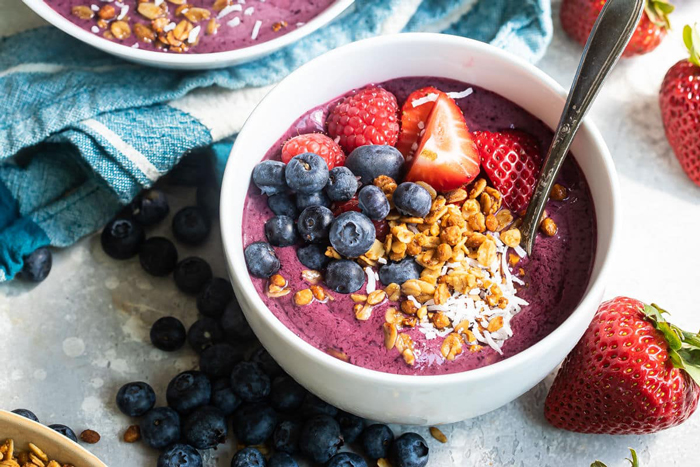 3. Apple Cinnamon Oatmeal
Origin: Oats have been a breakfast staple in many cultures, especially in Europe. The combination of apple and cinnamon adds a touch of sweetness and warmth.
Preparation: Oats are cooked with milk or water, and as they thicken, diced apples and cinnamon are added for flavor.
Benefits: This dish is a great source of fiber, providing slow-releasing energy that keeps you full for longer.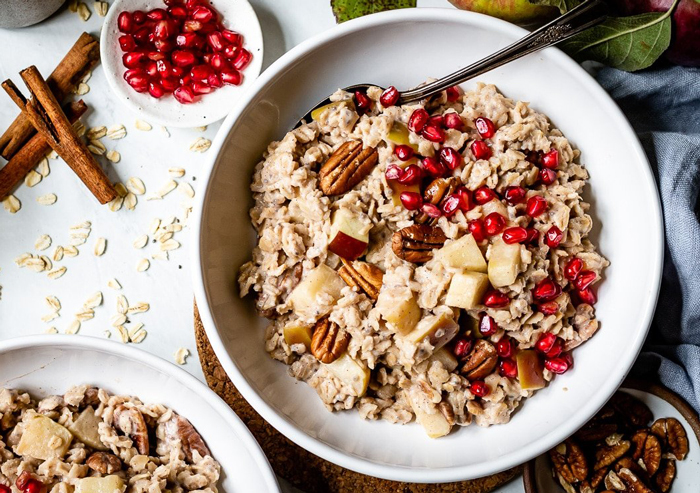 4. Almond Croissant
Origin: While croissants are quintessentially French, the addition of almonds—both as a filling and a topping—gives this pastry a nutty twist.
Preparation: A traditional croissant is filled with almond cream (frangipane) and then topped with sliced almonds and powdered sugar.
Benefits: Almonds add a boost of protein and healthy fats, making the pastry a bit more filling.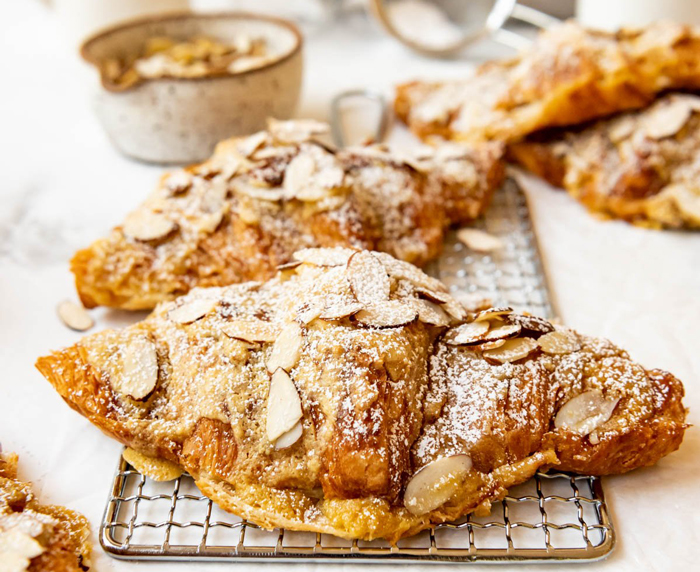 5. Asparagus and Egg Skillet
Origin: Combining vegetables with eggs for breakfast is common worldwide. Asparagus, with its fresh and slightly grassy flavor, complements the richness of eggs.
Preparation: Asparagus spears are sautéed until tender-crisp, after which eggs are cracked into the skillet to cook to the diner's preference.
Benefits: Asparagus is a source of folate, vitamins A, C, and K, while eggs provide high-quality protein.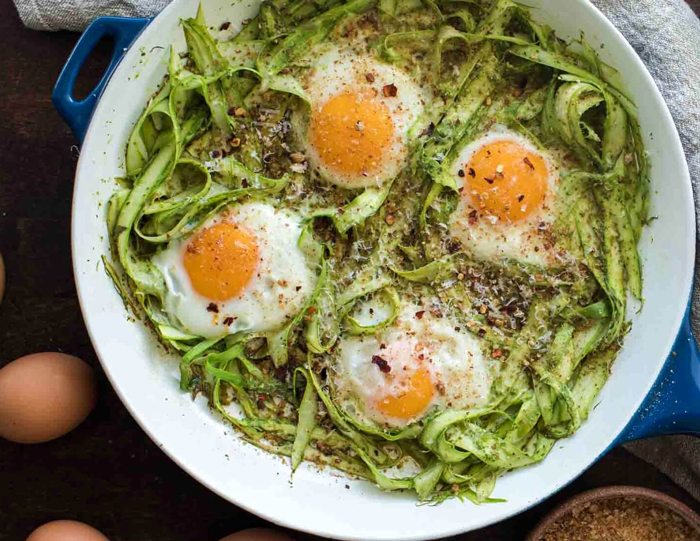 6. Apricot Muffins
Origin: Muffins, particularly in North America, are popular breakfast items. Apricots add a sweet-tart dimension to the soft and fluffy muffin texture.
Preparation: Diced apricots are folded into muffin batter and baked until golden. Sometimes, apricot preserves can be swirled in for extra flavor.
Benefits: Apricots are rich in vitamins A and C and are a good source of dietary fiber.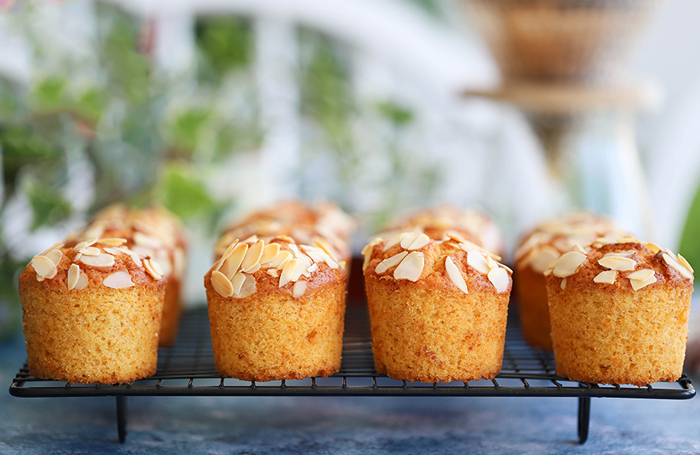 7. Anchovy Toast
Origin: This might sound unusual for breakfast, but in many Mediterranean cultures, anchovies are a morning treat, often paired with fresh tomatoes and olives.
Preparation: Toasted bread is layered with anchovy fillets, sometimes with added toppings like tomatoes, capers, and herbs.
Benefits: Anchovies are packed with omega-3 fatty acids, which are beneficial for heart health.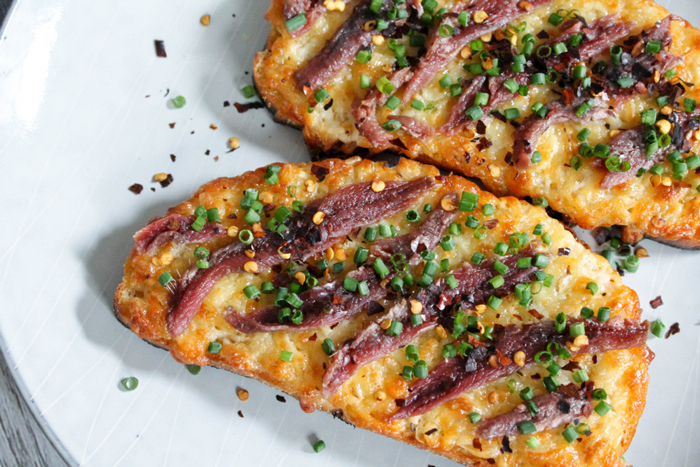 List of Breakfast Foods Starting with A
| | | |
| --- | --- | --- |
| Acai Berry | Acai Bowl | Ackee |
| Ackee And Saltfish | Aebleskiver | Aish Baladi |
| Akara Fritters | Alfalfa Sprouts | All-Bran Cereal |
| Almond Butter | Almond Butter Toast | Almond Croissant |
| Almond Flour Pancakes | Almond Milk | Almond Milk Chia Pudding |
| Almond Milk Latte | Almond Milk Oatmeal | Almond Milk Yogurt |
| Almonds | Aloo Paratha | Alpha-Bits Cereal |
| Alu Tikki | Amanatsu | Amaranth Flakes Cereal |
| Amaranth Porridge | Amaretti Cookies | American Bacon |
| Americano | Amish Oatmeal | Anadama Bread |
| Ancho Chile Breakfast Burrito | Andouille Sausage | Anpan |
| Antioxidant Berry Smoothie Bowl | Appel | Apple Cider Donuts |
| Apple Cinnamon Oatmeal | Apple Crisp. | Apple Dumpling |
| Apple Fritter | Apple Jacks | Apple Jacks Cereal |
| Apple Juice | Apple Muffin | Apple Oatmeal |
| Apple Pancake | Apple Pie | Apple Sauce |
| Apple Sausage | Apple Strudel | Apple Turnover |
| Apple-Cinnamon French Toast | Applepie | Apples |
| Applesauce | Applewood Bacon | Apricot |
| Apricot Jam On Toast | Apricot Muffins | Apricot Scones |
| Arancini | Arepa | Artichoke Frittata |
| Artichoke Quiche | Asida | Asparagus Omelette |
| Asparagus Quiche | Atole | Aunt Jemima Pancakes |
| Avgolemono Soup | Avocado | Avocado Toast |
Conclusion
Breakfast is a versatile meal, a time when you can enjoy a mix of savory and sweet, traditional and modern, simple and complex. Starting with the letter 'A', there's already a vast world of foods to explore and enjoy. Whether you're a breakfast enthusiast looking for a new favorite or someone just getting into the morning meal routine, there's likely an 'A' breakfast out there for you. Happy eating!
Breakfast Foods That Start With
A | B | C | D | E | F | G | H | I | J | K | L | M | N | O | P | Q | R | S | T | U | V | W | X | Y | Z